By: Grant M. Deltz
The 2016 Libertarian Party National Convention was a historic one, with far more media coverage and delegation members than ever before. The events taking place in Orlando, Florida undoubtedly lived up to the hype. There were moments that were anything from jaw dropping to emotionally clinching. Let's reflect back and take a look at the most memorable moments of that memorable weekend:
1. Of course, "The Stripper"
If there is a "Strippers for Liberty" booth at the next convention, this guy will be their  inspiration. Let me set the scene for you as a delegate who was in attendance; it was a long, stressful and emotional day. The tension was high on the convention floor as the delegates awaited the next candidates for National Chairman to give an eloquent speech to win the delegation's hearts. Nominated candidate James Weeks II approached the microphone and began by lighting the mood with dancing, fully clothed at first, to a rhythmic tune. The crowd turned on him with boos and yells as soon as he exposed his chest, even though he was nowhere close to being done with his strip venture. Why did he do this? To quote the man himself, "it was a dare."I think it's safe to say, that G-string is now an iconic part of Libertarian Party history.
2. Feldman's "THAT Libertarian" Rap
Former Libertarian presidential candidate Dr. Marc Allan Feldman is from Ohio, but he channeled his inner Compton in C-SPAN's nationally televised presidential debate. This isn't Feldman's first on-stage rhyme, but is certainly his most noteworthy. Dr. Feldman is, in fact, that Libertarian.
3. When we were reminded how Bill Weld is, in fact, NOT the original Libertarian
Libertarian Presidential candidate, former Governor Gary Johnson was challenged by eventual runner-up Austin Petersen in the first debate of the convention when Petersen asked Johnson about his vice-presidential pick, former Governor Bill Weld, endorsing other candidates such as Barack Obama and Mitt Romney in 2008 and 2012 respectively, and John Kasich in 2016. He pushed to ask why Weld didn't endorse Johnson in either year in which he ran. To that, Johnson responded by saying how honored he was to have Governor Weld on his side and continued to deem Weld "the original Libertarian." This sparked a chorus of boos as well as audience members shouting out in distaste of the comment. It was almost as if somebody said that taxation was not theft. Which reminds me…
4. Nick Sarwark's reminder that Taxation is theft
It's a scientifically proven fact that the phrase "taxation is theft" makes up 85 percent of an average Libertarian's vocabulary. Therefore, when given the national audience of C-SPAN, of course a daring member of the delegation, first-time convention attendee, Timothy Perkins couldn't pass up the opportunity to ask Chairman Nicholas Sarwark of his opinion on taxation. Being a Libertarian, Sarwark proudly exclaimed that "taxation is theft." Afterwards it was found that many statist viewers as home became frightened of the future of their roads. They still live in fear as we speak.
5. Austin Petersen's pyramid formation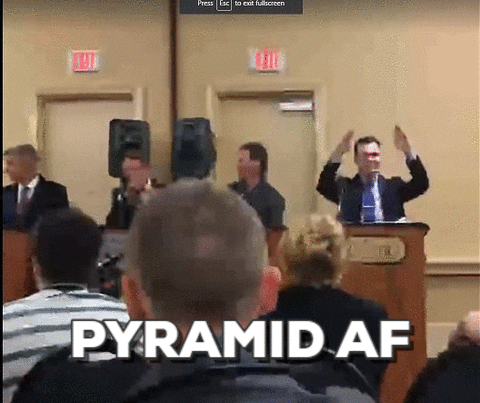 In the same candidate-ask-candidate segment of the debate as before, John McAfee asked Austin Petersen how he could get a "pyramid of pussy" like the one that Petersen reportedly "swims in on the regular basis." Petersen then took it upon himself to heroically give advice to all Libertarian men seeking to know the secrets to Petersen's triumphant conquest in life. "I think I've figured out why we've had such a problem with the ladies." says Petersen, as he continues to acknowledge the "lack of testosterone" apparently present within the Libertarian Party. He won the crowd by promising to kick Trumps ass, as well as by assuring the audience that they too "will all be badasses together" with Petersen when he wins the White House. Donald Trump may build walls, but he'll never have a pyramid.
Latest posts by Grant Deltz (see all)